Description
The fusion tape brings the best of two worlds: the very high stiffness of carbon and the light weight and damping of flax. Also both fibers have a very good compatibility, since they have similar thermal expansion coefficient and failure strain.
Price per meter.
Instructions: The flax fiber absorbs more resin.

Pneumatic presses with ~5  bar is recommended to make good laminate with minimum excess resin.
Vacuum press: follow this resin quantity recommendations: resin / (resin + fabric) = 60%
Spread the resin well with a roll on a flat surface or pour the epoxy on to the fabric and then make a roll out of it. Then let it soak for some minutes. Much easier than try to smear it out. 
For simulation I suggest you try to use averaged value of density and Y-modulus.
Tip: Use glue to stick the amplitex to the core before layup to make it stay where you desire.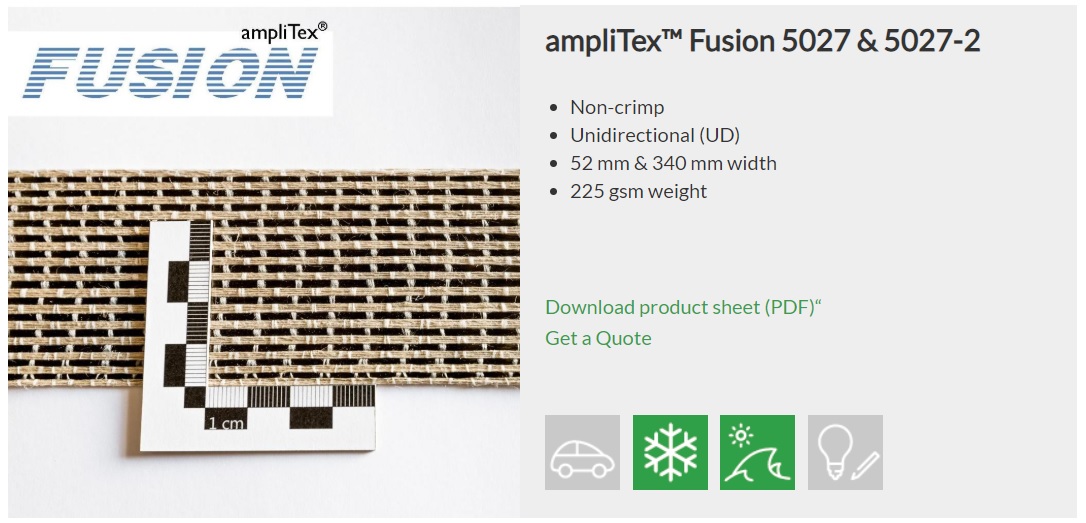 Fabric construction
Fibre type: Flax (EU)/ Carbon
Construction: UD tape
Fabric weight : select gsm
Ply construction
52% Carbon
48% Flax
Weft yarn
Textured polyester
Measurements
Standard width: select mm
Note: Flax fiber swells slightly and thus absorbs more resin. A good idea is to mix about 50% more then with glass. So if for glass you use 45-50% of fabric weight, for flax use about 65-75% of fabric weight.  It also can catch some humidity, so its good idea to dry it a bit before layup. For pneumatic presses with 3 – 6 bar, extra resin is pushed out again so it will be ok.  In the case of vacuum presses, please be careful how much resin you apply.